On Roads Most Travelled
Narelle Fernance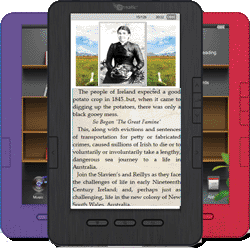 Purchase
Print Book
Pick Up $20
~~~~~
Posted $25
click below to have a copy posted to you
The people of Ireland expected a good potato crop in 1845..but, when it came to digging up the potatoes, there was only a black gooey mess.
So Began 'The Great Famine'
This, along with evictions and sentences of transportation for petty or fabricated crimes, caused millions of Irish to die or to voluntarily or involuntarily take a lengthy, dangerous sea journey to a life in Australia.
Join the Slavien's and Reillys as they face the challenges of life in early Nineteenth Century Ireland; and, perhaps just as challenging, life in the new colony of New South Wales, Australia.
Clunk – the tent pole falls – knocking thermos, billy and dog biscuits off the camp table – striking me across the back as it all bites the dust. Carlie, my sheep dog that has chosen to change her station to that of a lap dog had knocked the pole as she rolled over on her back – all feet and belly turned up, worshipping the sun – completely relaxed – oblivious to the disturbance. Carlie has been, and still is, a handy sheep trialling dog, but prefers sleeping in my tent, rather than her crate. Her fellow triallers - Tango and Barcoo Magee (known to her friends as 'Ratbag' continue their relaxed snooze in their dog crates. Phoenix, too, has recently been welcomed as a member of my four Border Collie Team. We have been competing in the six trials in three weeks that constitute the Queensland Sheep Dog Trials of the "Western Run" – north to Barcaldine, west to Longreach, south to Charleville and finishing at Cunnamulla. Until the Queensland Supreme, held at Karara the following month, it was then back home to Grafton in NSW where Bob, my husband, and I have a small mixed farm. We live on a hill in a lovely home with large glass windows overlooking the Clarence Valley on three sides.
A brief closer look at who is Narelle Fernance
​
I am a retired Administration Manager of a local high school and our close knit extended family includes three adult children, their spouses and six grandchildren – three or those grown up and three still pre-schoolers. I travel alone with the sheep dogs now, but years ago, when our children were growing up the family were heavily involved in endurance horse riding competitions. Now, commanding dogs seems less risky than thundering down a steep slope on horse back, but it is marvellous the power of an occasional flying sheep. Enjoying the company of fellow competitors at these events has always been a compelling factor to continue.
Though I enjoy writing short stories, at this stage "On Roads Most Travelled" is my only novel . However the researching and writing of this little story was purely a labour of love. Maybe there will be more to come when the knees completely give out and trialling sheep dogs is no longer an option. The people I have met during my travels – overseas and in Australia – and in particular, in the outback have always given me joy, inspiration and encouragement. The philosophy of what makes people who they are is my passionate interest and I find that even the quietest and the grumpiest have their story to tell – if one takes the time to listen and learn. It could be said that the characters and amazing incidents I have shared have given me more than enough material for my next novel – if only I dared to write it.